(This scripture compilation is designed for reading aloud. Because it moves back and forth between the various gospels I suggest that, for continuity, you omit the citations and just focus on reading the text.)
Thomas Doubts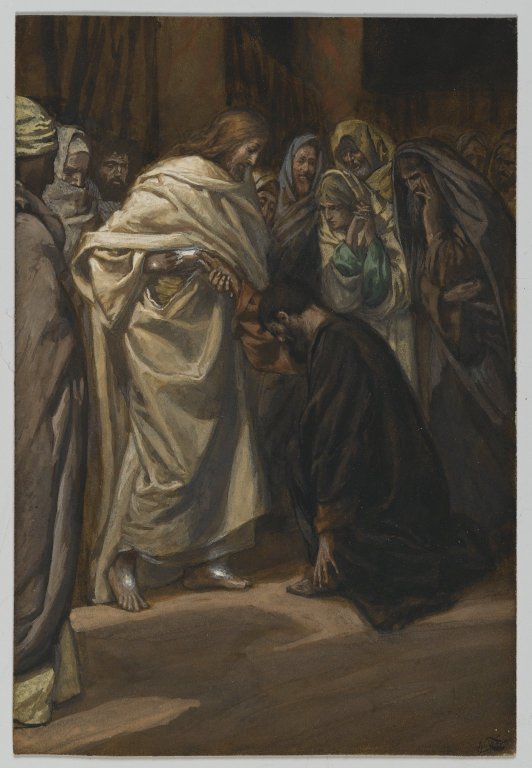 John 20:         
24 But Thomas, one of the twelve, called Didymus, was not with them when Jesus came.
25 The other disciples therefore said unto him, We have seen the Lord. But he said unto them, Except I shall see in his hands the print of the nails, and put my finger into the print of the nails, and thrust my hand into his side, I will not believe.
26 And after eight days again his disciples were within, and Thomas with them: then came Jesus, the doors being shut, and stood in the midst, and said, Peace be unto you.
27 Then saith he to Thomas, Reach hither thy finger, and behold my hands; and reach hither thy hand, and thrust it into my side: and be not faithless, but believing.
28 And Thomas answered and said unto him, My Lord and my God.
29 Jesus saith unto him, Thomas, because thou hast seen me, thou hast believed: blessed are they that have not seen, and yet have believed.
Others Resurrected
Matt. 27:                   
52 And the graves were opened; and many bodies of the saints which slept arose,
53 And came out of the graves after his resurrection, and went into the holy city, and appeared unto many.
Jesus Eats Fish with the Disciples at the Sea of Tiberias
John 21:         
1 After these things Jesus shewed himself again to the disciples at the sea of Tiberias; and on this wise shewed he himself.
2 There were together Simon Peter, and Thomas called Didymus, and Nathanael of Cana in Galilee, and the sons of Zebedee, and two other of his disciples.
3 Simon Peter saith unto them, I go a fishing. They say unto him, We also go with thee. They went forth, and entered into a ship immediately; and that night they caught nothing.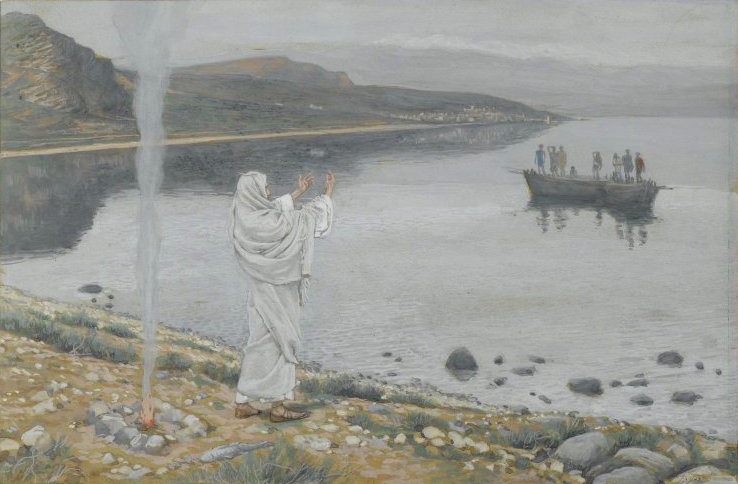 4 But when the morning was now come, Jesus stood on the shore: but the disciples knew not that it was Jesus.
5 Then Jesus saith unto them, Children, have ye any meat? They answered him, No.
6 And he said unto them, Cast the net on the right side of the ship, and ye shall find. They cast therefore, and now they were not able to draw it for the multitude of fishes.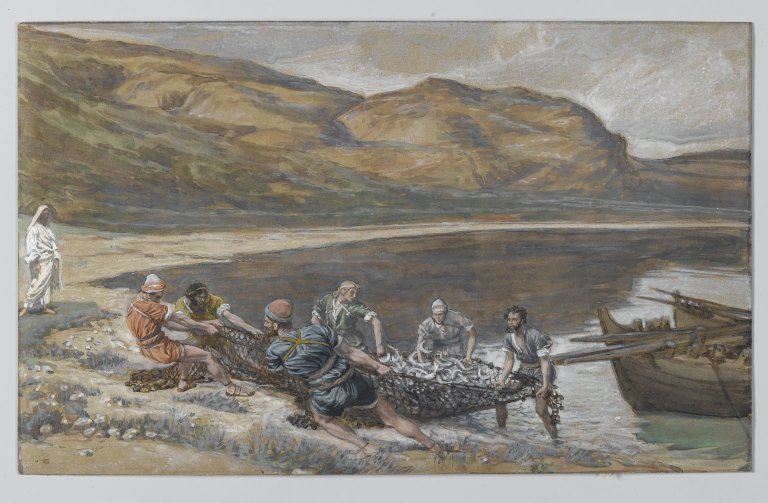 7 Therefore that disciple whom Jesus loved saith unto Peter, It is the Lord. Now when Simon Peter heard that it was the Lord, he girt his fisher's coat unto him, (for he was naked,) and did cast himself into the sea.
8 And the other disciples came in a little ship; (for they were not far from land, but as it were two hundred cubits,) dragging the net with fishes.
9 As soon then as they were come to land, they saw a fire of coals there, and fish laid thereon, and bread.
10 Jesus saith unto them, Bring of the fish which ye have now caught.
11 Simon Peter went up, and drew the net to land full of great fishes, an hundred and fifty and three: and for all there were so many, yet was not the net broken.
12 Jesus saith unto them, Come and dine. And none of the disciples durst ask him, Who art thou? knowing that it was the Lord.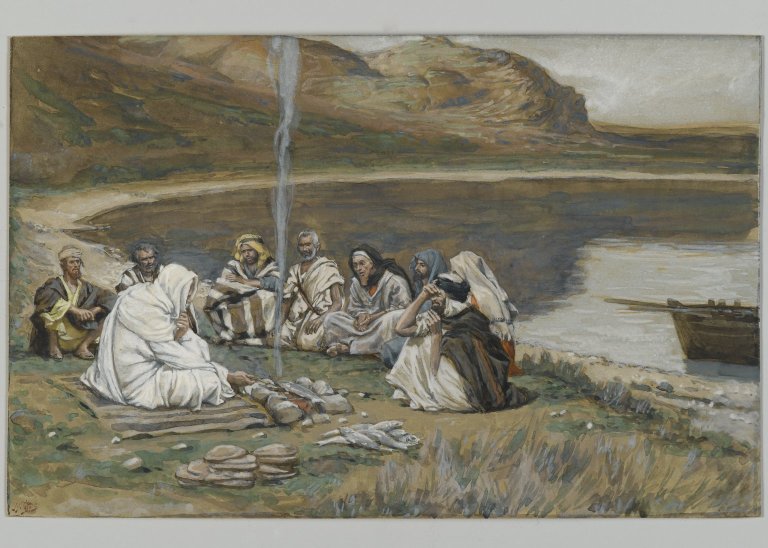 13 Jesus then cometh, and taketh bread, and giveth them, and fish likewise.
14 This is now the third time that Jesus shewed himself to his disciples, after that he was risen from the dead.
Jesus Commands Peter to Feed His Sheep
John 21:
15 So when they had dined, Jesus saith to Simon Peter, Simon, son of Jonas, lovest thou me more than these? He saith unto him, Yea, Lord; thou knowest that I love thee. He saith unto him, Feed my lambs.
16 He saith to him again the second time, Simon, son of Jonas, lovest thou me? He saith unto him, Yea, Lord; thou knowest that I love thee. He saith unto him, Feed my sheep.
17 He saith unto him the third time, Simon, son of Jonas, lovest thou me? Peter was grieved because he said unto him the third time, Lovest thou me? And he said unto him, Lord, thou knowest all things; thou knowest that I love thee. Jesus saith unto him, Feed my sheep.
18 Verily, verily, I say unto thee, When thou wast young, thou girdedst thyself, and walkedst whither thou wouldest: but when thou shalt be old, thou shalt stretch forth thy hands, and another shall gird thee, and carry thee whither thou wouldest not.
19 This spake he, signifying by what death he should glorify God. And when he had spoken this, he saith unto him, Follow me.
20 Then Peter, turning about, seeth the disciple whom Jesus loved following; which also leaned on his breast at supper, and said, Lord, which is he that betrayeth thee?
21 Peter seeing him saith to Jesus, Lord, and what shall this man do?
22 Jesus saith unto him, If I will that he tarry till I come, what is that to thee? follow thou me.
23 Then went this saying abroad among the brethren, that that disciple should not die: yet Jesus said not unto him, He shall not die; but, If I will that he tarry till I come, what is that to thee?
Appearance to More Than 500 Brethren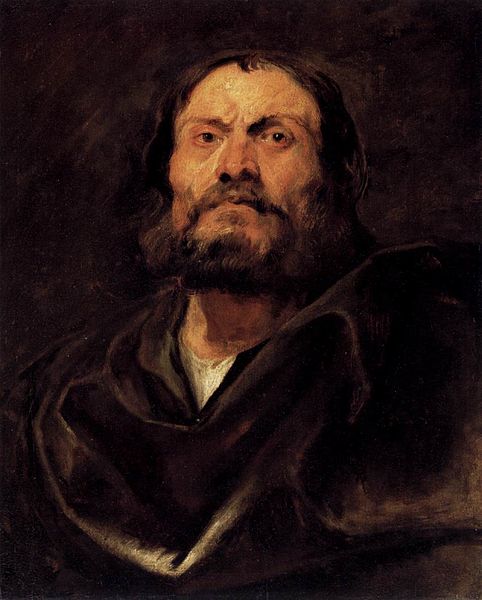 1 Cor. 15:      
6 After that, he was seen of above five hundred brethren at once; of whom the greater part remain unto this present, but some are fallen asleep.
7 After that, he was seen of James; then of all the apostles.
Jesus Teaches the Disciples 40 Days and Commands Them to Do Missionary Work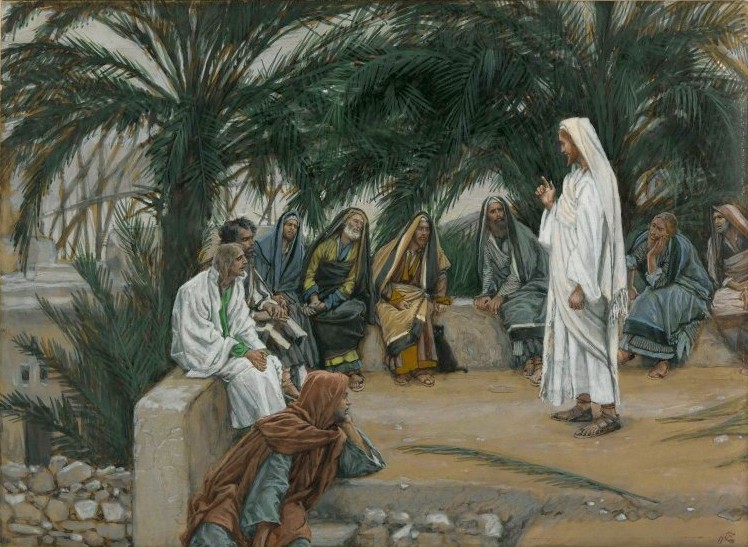 Matt 28:         
16 ¶ Then the eleven disciples went away into Galilee, into a mountain where Jesus had appointed them.
18 And Jesus came and spake unto them, saying, All power is given unto me in heaven and in earth.
19 Go ye therefore, and teach all nations, baptizing them in the name of the Father, and of the Son, and of the Holy Ghost:
20 Teaching them to observe all things whatsoever I have commanded you: and, lo, I am with you alway, even unto the end of the world.
Mark 16:
16 He that believeth and is baptized shall be saved; but he that believeth not shall be damned.
17 And these signs shall follow them that believe; In my name shall they cast out devils; they shall speak with new tongues;
18 They shall take up serpents; and if they drink any deadly thing, it shall not hurt them: they shall lay hands on the sick, and they shall recover.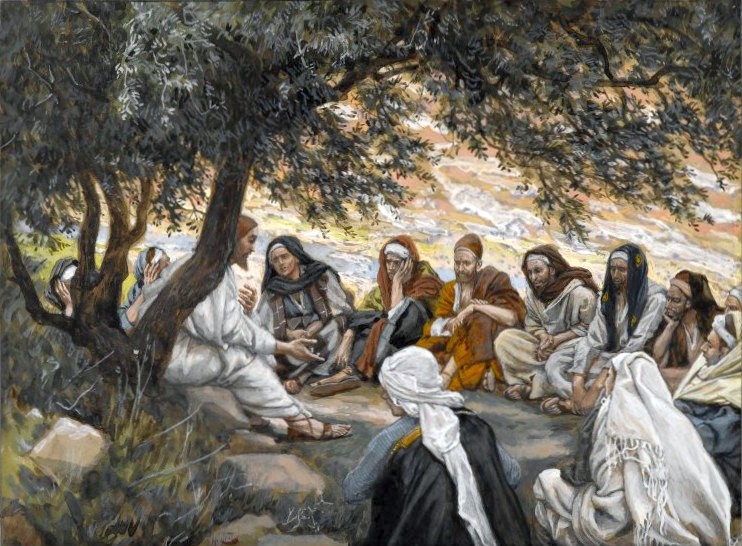 Acts 1:
1 The former treatise have I made, O Theophilus, of all that Jesus began both to do and teach,
2 Until the day in which he was taken up, after that he through the Holy Ghost had given commandments unto the apostles whom he had chosen:
3 To whom also he shewed himself alive after his passion by many infallible proofs, being seen of them forty days, and speaking of the things pertaining to the kingdom of God:
4 And, being assembled together with them, commanded them that they should not depart from Jerusalem, but wait for the promise of the Father, which, saith he, ye have heard of me.
5 For John truly baptized with water; but ye shall be baptized with the Holy Ghost not many days hence.
6 When they therefore were come together, they asked of him, saying, Lord, wilt thou at this time restore again the kingdom to Israel?
7 And he said unto them, It is not for you to know the times or the seasons, which the Father hath put in his own power.
8 But ye shall receive power, after that the Holy Ghost is come upon you: and ye shall be witnesses unto me both in Jerusalem, and in all Judaea, and in Samaria, and unto the uttermost part of the earth.
 Hymn 7 (Israel, Israel, God is Calling)
 Ascension at Bethany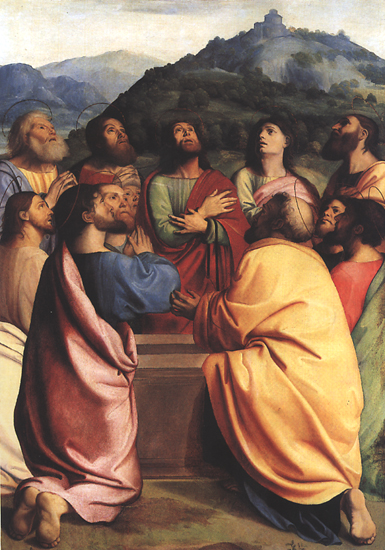 Luke 24:                                 
50 And he led them out as far as to Bethany, and he lifted up his hands, and blessed them.
51 And it came to pass, while he blessed them, he was parted from them, and carried up into heaven.
Acts 1:
9 …and a cloud received him out of their sight.
10 And while they looked stedfastly toward heaven as he went up, behold, two men stood by them in white apparel;
11 Which also said, Ye men of Galilee, why stand ye gazing up into heaven? this same Jesus, which is taken up from you into heaven, shall so come in like manner as ye have seen him go into heaven.
Disciples Return to Jerusalem
Luke 24:                                 
52 And they worshipped him, and returned to Jerusalem with great joy:
Acts 1:
12 …from the mount called Olivet, which is from Jerusalem a sabbath day's journey.
13 And when they were come in, they went up into an upper room, where abode both Peter, and James, and John, and Andrew, Philip, and Thomas, Bartholomew, and Matthew, James the son of Alphaeus, and Simon Zelotes, and Judas the brother of James.
14 These all continued with one accord in prayer and supplication, with the women, and Mary the mother of Jesus, and with his brethren.
Luke 24:                                 
53 And were continually in the temple, praising and blessing God. Amen.
Hymn 62 (All Creatures of Our God and King)
John's Testimony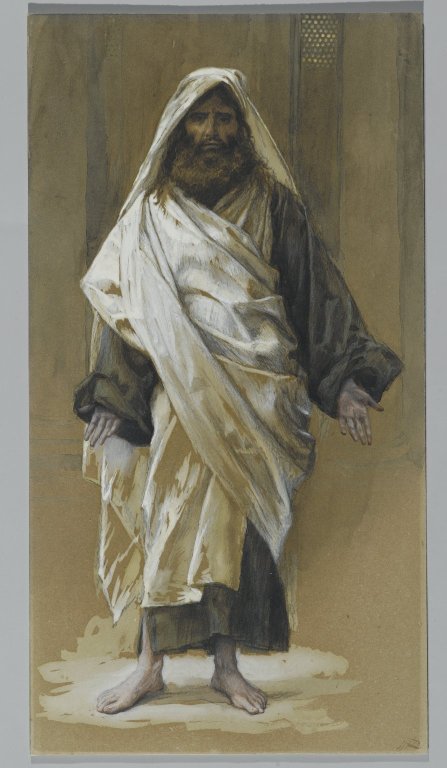 John 21:
24 This is the disciple which testifieth of these things, and wrote these things: and we know that his testimony is true.
25 And there are also many other things which Jesus did, the which, if they should be written every one, I suppose that even the world itself could not contain the books that should be written….
John 20:                     
30 And many other signs truly did Jesus in the presence of his disciples, which are not written in this book:
31 But these are written, that ye might believe that Jesus is the Christ, the Son of God; and that believing ye might have life through his name. Amen.
Hymn 6 (Redeemer of Israel) or Hymn 189 (O, Thou Before the World Began)
Jesus Appears to Nephites
3 Nephi 10:               
18 And it came to pass that in the ending of the thirty and fourth year, behold, I will show unto you that the people of Nephi who were spared, and also those who had been called Lamanites, who had been spared, did have great favors shown unto them, and great blessings poured out upon their heads, insomuch that soon after the ascension of Christ into heaven he did truly manifest himself unto them—
19 Showing his body unto them, and ministering unto them; and an account of his ministry shall be given hereafter. Therefore for this time I make an end of my sayings.
3 Nephi 11:
1 And now it came to pass that there were a great multitude gathered together, of the people of Nephi, round about the temple which was in the land Bountiful; and they were marveling and wondering one with another, and were showing one to another the great and marvelous change which had taken place.
2 And they were also conversing about this Jesus Christ, of whom the sign had been given concerning his death.
3 And it came to pass that while they were thus conversing one with another, they heard a voice as if it came out of heaven; and they cast their eyes round about, for they understood not the voice which they heard; and it was not a harsh voice, neither was it a loud voice; nevertheless, and notwithstanding it being a small voice it did pierce them that did hear to the center, insomuch that there was no part of their frame that it did not cause to quake; yea, it did pierce them to the very soul, and did cause their hearts to burn.
4 And it came to pass that again they heard the voice, and they understood it not.
5 And again the third time they did hear the voice, and did open their ears to hear it; and their eyes were towards the sound thereof; and they did look steadfastly towards heaven, from whence the sound came.
6 And behold, the third time they did understand the voice which they heard; and it said unto them:
7 Behold my Beloved Son, in whom I am well pleased, in whom I have glorified my name—hear ye him.
8 And it came to pass, as they understood they cast their eyes up again towards heaven; and behold, they saw a Man descending out of heaven; and he was clothed in a white robe; and he came down and stood in the midst of them; and the eyes of the whole multitude were turned upon him, and they durst not open their mouths, even one to another, and wist not what it meant, for they thought it was an angel that had appeared unto them.
9 And it came to pass that he stretched forth his hand and spake unto the people, saying:
10 Behold, I am Jesus Christ, whom the prophets testified shall come into the world.
11 And behold, I am the alight and the life of the world; and I have drunk out of that bitter cup which the Father hath given me, and have glorified the Father in taking upon me the sins of the world, in the which I have suffered the will of the Father in all things from the beginning.
12 And it came to pass that when Jesus had spoken these words the whole multitude fell to the earth; for they remembered that it had been prophesied among them that Christ should show himself unto them after his ascension into heaven.
13 And it came to pass that the Lord spake unto them saying:
14 Arise and come forth unto me, that ye may thrust your hands into my side, and also that ye may feel the prints of the nails in my hands and in my feet, that ye may know that I am the God of Israel, and the God of the whole earth, and have been slain for the sins of the world.
15 And it came to pass that the multitude went forth, and thrust their hands into his side, and did feel the prints of the nails in his hands and in his feet; and this they did do, going forth one by one until they had all gone forth, and did see with their eyes and did feel with their hands, and did know of a surety and did bear record, that it was he, of whom it was written by the prophets, that should come.
16 And when they had all gone forth and had witnessed for themselves, they did cry out with one accord, saying:
17 Hosanna! Blessed be the name of the Most High God! And they did fall down at the feet of Jesus, and did worship him.
 (Further account of His ministry in 3 Nephi 11- 28)      
 Children's Songbook 66 (Hosannah)
Hymn 134 (I Believe in Christ) or Hymn 136 (I Know that My Redeemer Lives)