Daily Readings and Hymns for November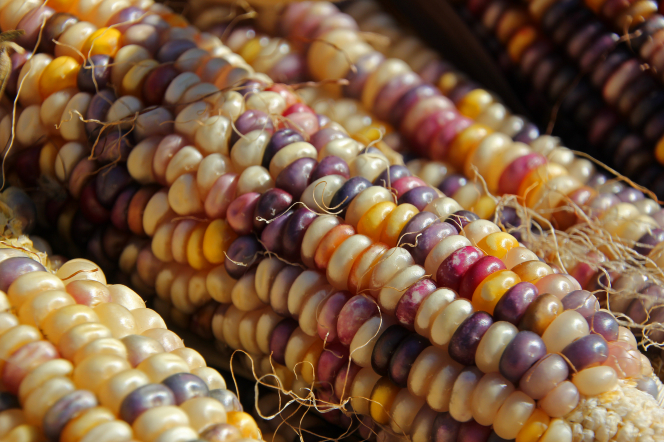 https://www.lds.org/media-library
---
 November 1st:
Doctrine and Covenants 59
8 Thou shalt offer a sacrifice unto the Lord thy God in righteousness, even that of a broken heart and a contrite spirit.
9 And that thou mayest more fully keep thyself unspotted from the world, thou shalt go to the house of prayer and offer up thy sacraments upon my holy day;
10 For verily this is a day appointed unto you to rest from your labors, and to pay thy devotions unto the Most High;
11 Nevertheless thy vows shall be offered up in righteousness on all days and at all times;
12 But remember that on this, the Lord's day, thou shalt offer thine oblations and thy sacraments unto the Most High, confessing thy sins unto thy brethren, and before the Lord.
13 And on this day thou shalt do none other thing, only let thy food be prepared with singleness of heart that thy fasting may be perfect, or, in other words, that thy joy may be full.
14 Verily, this is fasting and prayer, or in other words, rejoicing and prayer.
15 And inasmuch as ye do these things with thanksgiving, with cheerful hearts and countenances, not with much laughter, for this is sin, but with a glad heart and a cheerful countenance—
16 Verily I say, that inasmuch as ye do this, the fulness of the earth is yours, the beasts of the field and the fowls of the air, and that which climbeth upon the trees and walketh upon the earth;
17 Yea, and the herb, and the good things which come of the earth, whether for food or for raiment, or for houses, or for barns, or for orchards, or for gardens, or for vineyards;
18 Yea, all things which come of the earth, in the season thereof, are made for the benefit and the use of man, both to please the eye and to gladden the heart;
19 Yea, for food and for raiment, for taste and for smell, to strengthen the body and to enliven the soul.
20 And it pleaseth God that he hath given all these things unto man; for unto this end were they made to be used, with judgment, not to excess, neither by extortion.
21 And in nothing doth man offend God, or against none is his wrath kindled, save those who confess not his hand in all things, and obey not his commandments.
~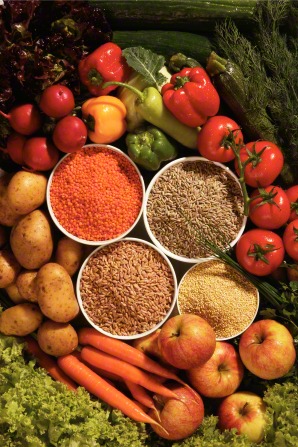 www.lds.org/media-library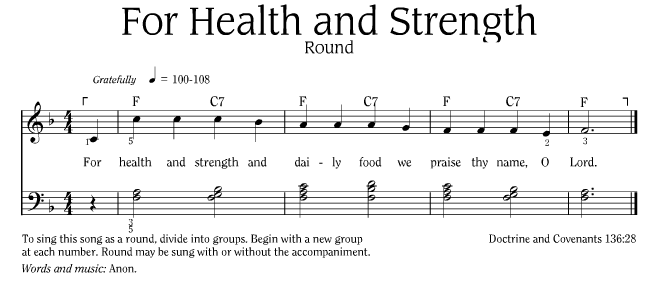 Lyrics
(1) For health and strength
(2) and daily food
(3) we praise thy name,
(4) O Lord.
Words and music: Anon.
For Health and Strength (Round)
Return to the top
---
November 2nd: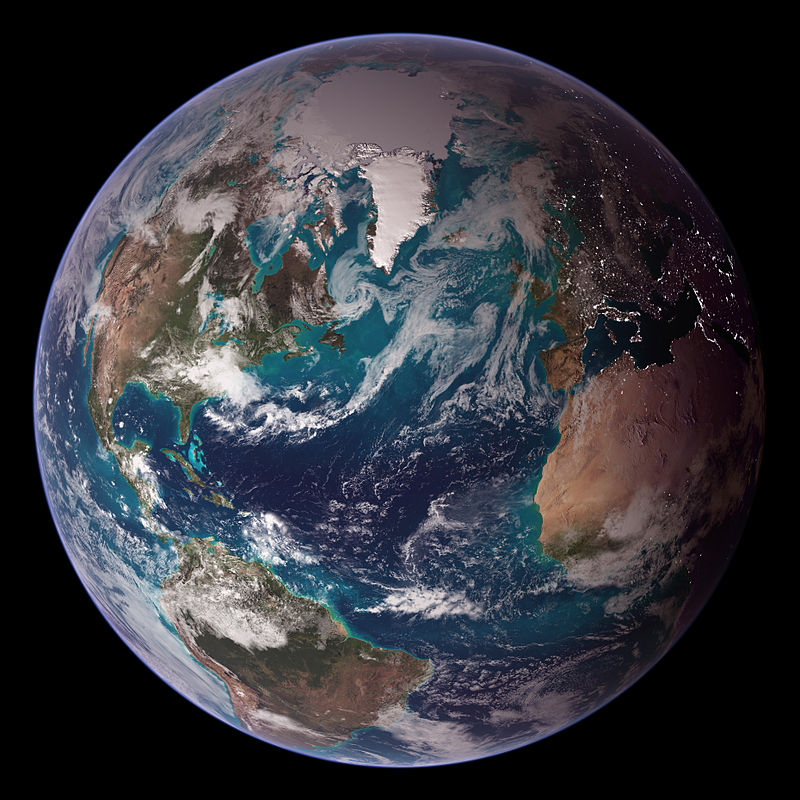 The world is so full of a number of things,
I'm sure we should all be as happy as kings!
Robert Louis Stevenson
~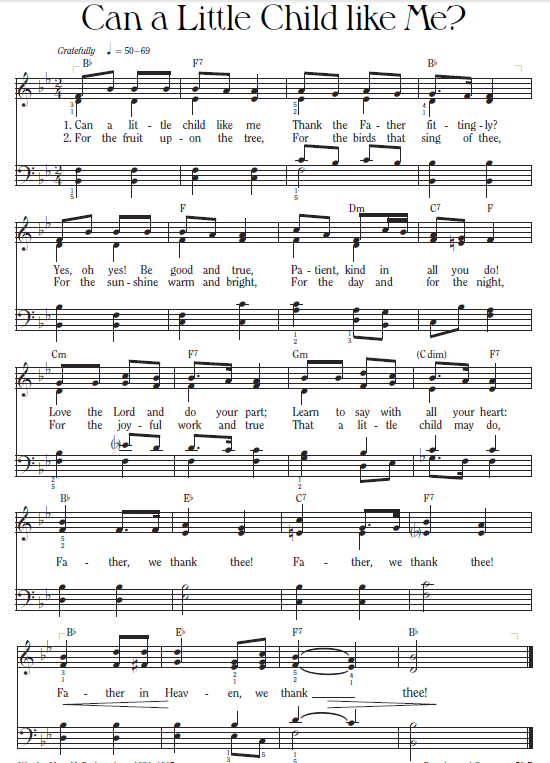 Can a Little Child Like Me
Return to the top
---
November 3rd: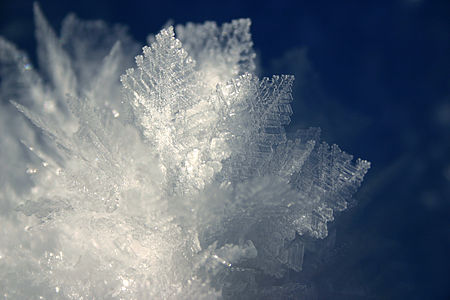 By Annick MONNIER (Own work) [CC BY-SA 3.0 (http://creativecommons.org)
The most priceless possession of the human race is the wonder of the world.
Kenneth Graeme
~
To see a world in a grain of sand
And heaven in a wild flower,
Hold infinity in the palm of your hand
And eternity in an hour.
William Blake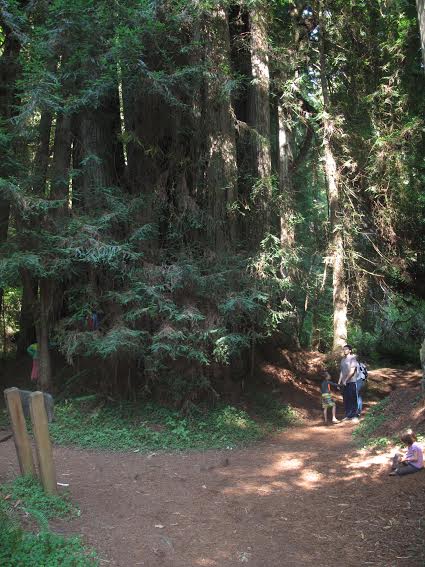 Photo by Larry Walters
---
November 4th:
Doctrine and Covenants 136
28 If thou art merry, praise the Lord with singing, with music, with dancing, and with a prayer of praise and thanksgiving.
~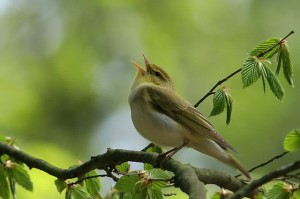 ~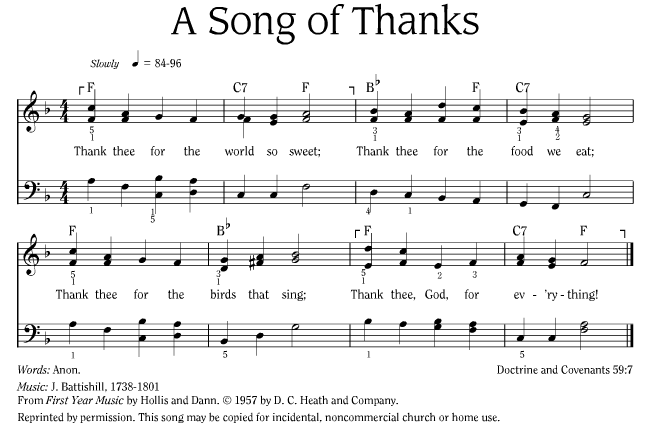 A Song of Thanks
Return to the top
---
November 5th:

fir0002 | flagstaffotos.com.au
Psalm 92
1 It is a good thing to give thanks unto the Lord, and to sing praises unto thy name, O most High:
2 To shew forth thy loving kindness in the morning, and thy faithfulness every night,
4 For thou, Lord, hast made me glad through thy work: I will triumph in the works of thy hands.
~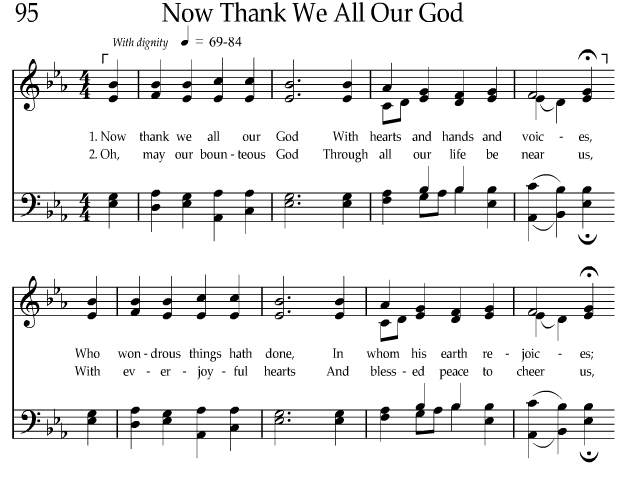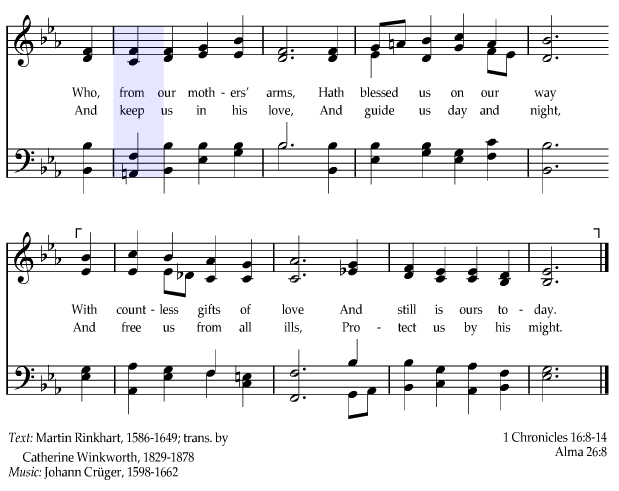 Now Thank We All Our God
Return to the top
---
November 6th:
Thanks we give for blessings yet unmeasured,
For gifts we know, and gifts that are yet unseen.
Russell Wilson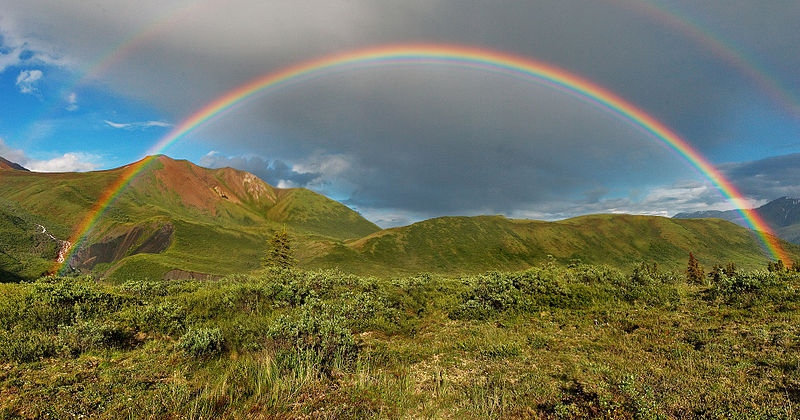 By Double-alaskan-rainbow.jpg: Eric Rolph derivative work – Wikimedia
~
Being grateful in our circumstances is an act of faith in God. It requires that we trust God and hope for things we may not see but which are true. By being grateful, we follow the example of our beloved Savior, who said, "Not my will, but thine, be done."
Pres. Dieter F. Uchdorf, Grateful in Any Circumstances, General Conference of the Church of Jesus Christ of Latter-day Saints, April 2014
Return to the top
---
November 7th: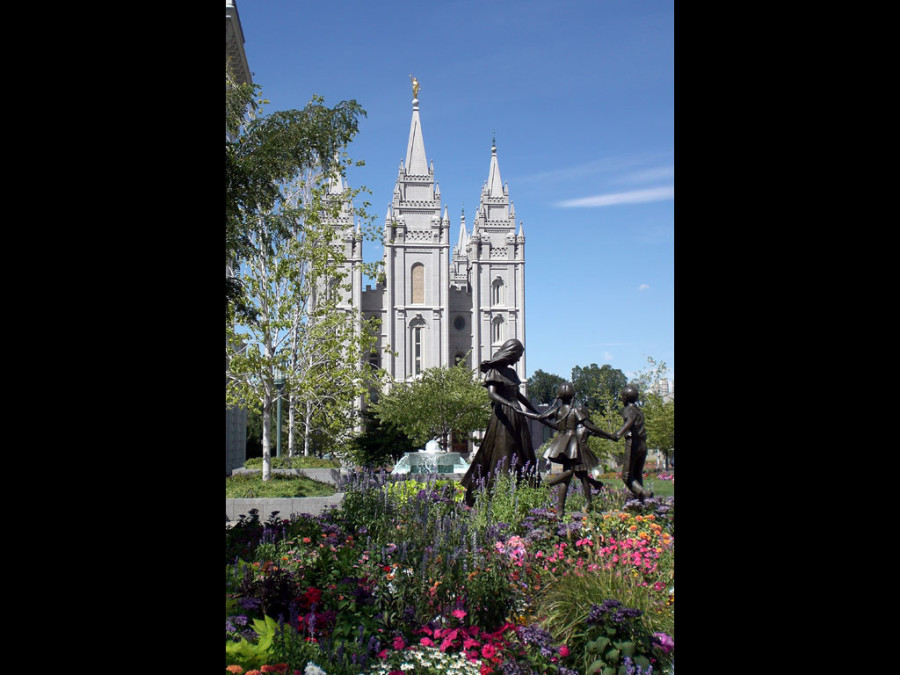 https://www.lds.org/media-library
Doctrine and Covenants 59
3 Yea, blessed are they whose feet stand upon the land of Zion, who have obeyed my gospel; for they shall receive for their reward the good things of the earth, and it shall bring forth in its strength.
4 And they shall also be crowned with blessings from above, yea, and with commandments not a few, and with revelations in their time—they that are faithful and diligent before me.
5 Wherefore, I give unto them a commandment, saying thus: Thou shalt love the Lord thy God with all thy heart, with all thy might, mind, and strength; and in the name of Jesus Christ thou shalt serve him.
6 Thou shalt love thy neighbor as thyself. Thou shalt not steal; neither commit adultery, nor kill, nor do anything like unto it.
7 Thou shalt thank the Lord thy God in all things.
~
We have so much for which to give thanks. First and foremost, we are thankful for our Savior Jesus Christ. Under the plan of the Father, He created the world. Through His prophets, He revealed the plan of salvation with its accompanying commandments and ordinances. He came into mortality to teach and show us the way. He suffered and paid the price for our sins if we would repent. He gave up His life, and He conquered death and rose from the grave that we all will live again. He is the Light and Life of the World. …
We give thanks for the revealed truths that provide a standard against which to measure all things. As the Bible teaches, the Lord gave us apostles and prophets "for the perfecting of the saints" (see Eph. 4:11–12). We use the revealed truth they give us, "that we henceforth be no more children, tossed to and fro, and carried about with every wind of doctrine, by the sleight of men, and cunning craftiness, whereby they lie in wait to deceive" (Eph. 4:14). Those who view every calamity and measure every new assertion or discovery against the standard of revealed truth need not be "tossed to and fro" but can be steady and at peace. God is in His heavens, and His promises are sure. "Be not troubled," He has said to us concerning the destructions that will precede the end of the world, "for, when all these things shall come to pass, ye may know that the promises which have been made unto you shall be fulfilled" (D&C 45:35). What an anchor to the soul in these troubled times!
We give thanks for commandments. They are directions away from pitfalls, and they are invitations to blessings. Commandments mark the path and show us the way to happiness in this life and eternal life in the world to come.
Apostle Dallin H. Oaks, Give Thanks in All Things,
General Conference of the Church of Jesus Christ of Latter-day Saints, April 2003
~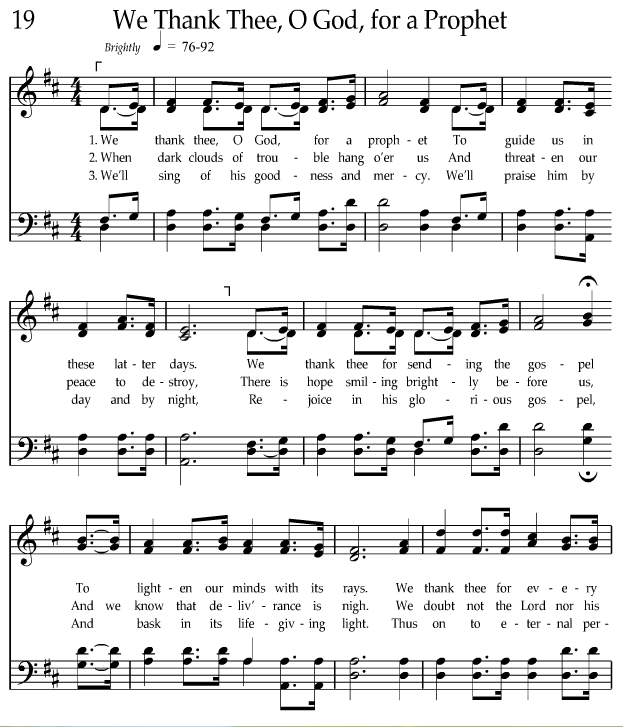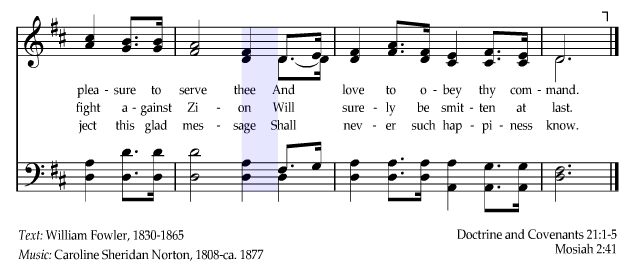 https://www.lds.org/music/library/hymns/we-thank-thee-o-god-for-a-prophet?lang=eng
Return to the top
---
November 8th:
Doctrine and Covenants 98
1 Verily I say unto you my friends, fear not, let your hearts be comforted; yea, rejoice evermore, and in everything give thanks.
3 … and all things wherewith you have been afflicted shall work together for your good
~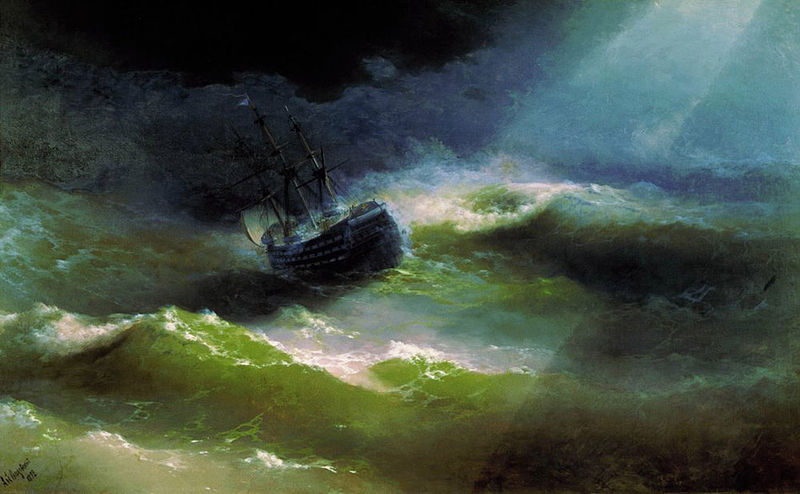 by Ivan Aivazovsky
~
The revelations, for which we are grateful, show that we should even give thanks for our afflictions because they turn our hearts to God and give us opportunities to prepare for what God would have us become. The Lord taught the prophet Moroni, "I give unto men weakness that they may be humble," and then promised that "if they humble themselves … and have faith in me, then will I make weak things become strong unto them" (Ether 12:27). … we should thank God for our adversities and pray for guidance in meeting them. Through that attitude and through our faith and obedience, we will realize the promises God has given us. It is all part of the plan. …
Let us give thanks for what we are and for the circumstances God has given us for our personal journey through mortality.
In ancient times the [Book of Mormon] prophet Lehi taught this truth to his son Jacob:
"In thy childhood thou hast suffered afflictions and much sorrow, because of the rudeness of thy brethren.
"Nevertheless, Jacob, my first-born in the wilderness, thou knowest the greatness of God; and he shall consecrate thine afflictions for thy gain" (2 Ne. 2:1–2).
My mother loved that scripture and lived its principle. The greatest affliction of her life was the death of her husband, our father, after only 11 years of marriage. This changed her life and imposed great hardships as she proceeded to earn a living and raise her three little children alone. Nevertheless, I often heard her say that the Lord consecrated that affliction for her gain because her husband's death compelled her to develop her talents and serve and become something that she could never have become without that seeming tragedy. Our mother was a spiritual giant, strong and fully worthy of the loving tribute her three children inscribed on her headstone: "Her Faith Strengthened All."
The blessings of adversity extend to others. I know it was a blessing to be raised by a widowed mother whose children had to learn how to work, early and hard. I know that relative poverty and hard work are not greater adversities than affluence and abundant free time. I also know that strength is forged in adversity and that faith is developed in a setting where we cannot see ahead.
When we give thanks in all things, we see hardships and adversities in the context of the purpose of life. We are sent here to be tested. There must be opposition in all things. We are meant to learn and grow through that opposition, through meeting our challenges, and through teaching others to do the same.
Apostle Dallin H. Oaks, Give Thanks in All Things,
General Conference of the Church of Jesus Christ of Latter-day Saints, April 2003
Return to the top
---
November 9th:
Everyone's situation is different, and the details of each life are unique. Nevertheless, I have learned that there is something that would take away the bitterness that may come into our lives. There is one thing we can do to make life sweeter, more joyful, even glorious. We can be grateful!
It might sound contrary to the wisdom of the world to suggest that one who is burdened with sorrow should give thanks to God. But those who set aside the bottle of bitterness and lift instead the goblet of gratitude can find a purifying drink of healing, peace, and understanding.
Why does God command us to be grateful? All of His commandments are given to make blessings available to us. Commandments are opportunities to exercise our agency and to receive blessings. Our loving Heavenly Father knows that choosing to develop a spirit of gratitude will bring us true joy and great happiness.
Pres. Dieter F. Uchdorf, Grateful in Any Circumstances, General Conference of the Church of Jesus Christ of Latter-day Saints, Apr, 2014
~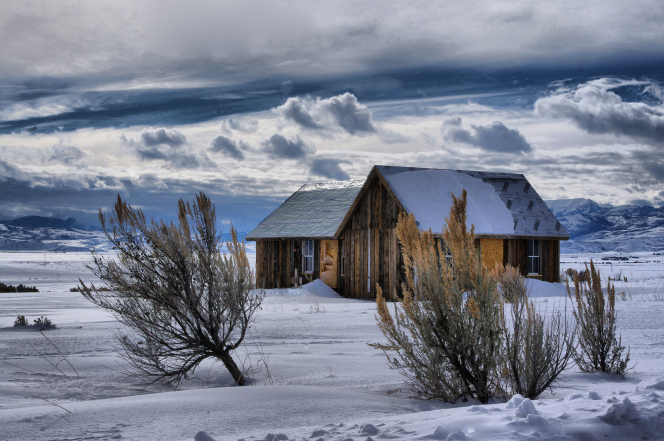 https://www.lds.org/media-library
Thank Thee for Everything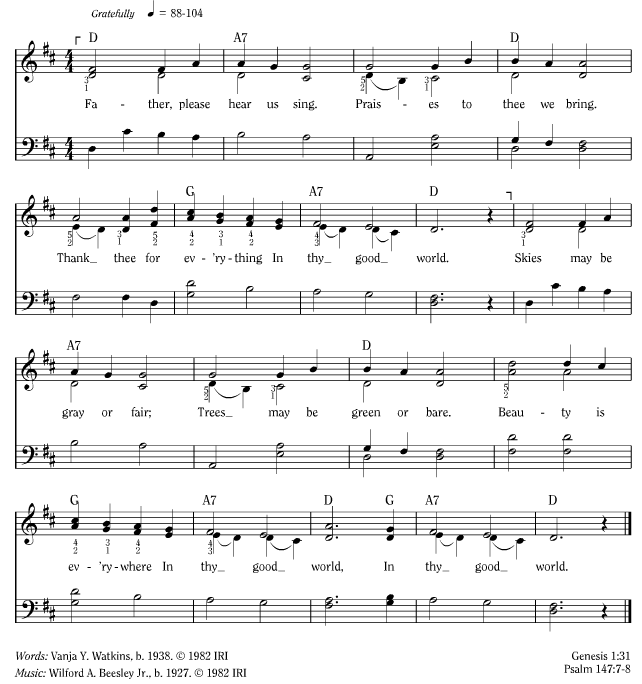 Thank Thee For Everything
Return to the top
---
November 10th: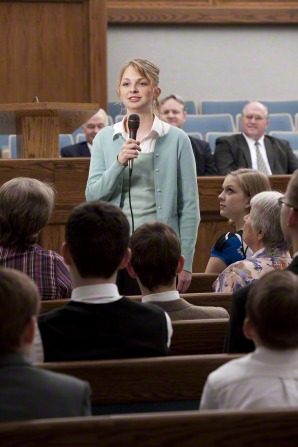 https://www.lds.org/media-library
Colossians 2:
6 As ye have therefore received Christ Jesus the Lord, so walk ye in him:
7 Rooted and built up in him, and stablished in the faith, as ye have been taught, abounding therein with thanksgiving.
~
Book of Mormon – Alma 7
23 And now I would that ye should be humble, and be submissive and gentle; easy to be entreated; full of patience and long-suffering; being temperate in all things; being diligent in keeping the commandments of God at all times; asking for whatsoever things ye stand in need, both spiritual and temporal; always returning thanks unto God for whatsoever things ye do receive.
Return to the top
---
November 11th: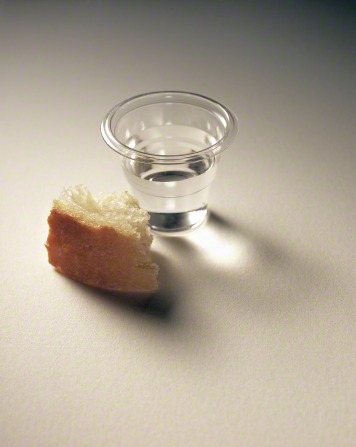 https://www.lds.org/media-library
Book of Mormon – Second Nephi Chapter 22 (Compare to Isaiah)
1 And in that day thou shalt say: O Lord, I will praise thee; though thou wast angry with me thine anger is turned away, and thou comfortedst me.
2 Behold, God is my salvation; I will trust, and not be afraid; for the Lord Jehovah is my strength and my song; he also has become my salvation.
3 Therefore, with joy shall ye draw water out of the wells of salvation.
4 And in that day shall ye say: Praise the Lord, call upon his name, declare his doings among the people, make mention that his name is exalted.
5 Sing unto the Lord; for he hath done excellent things; this is known in all the earth.
6 Cry out and shout, thou inhabitant of Zion; for great is the Holy One of Israel in the midst of thee.
Return to the top
---
November 12th: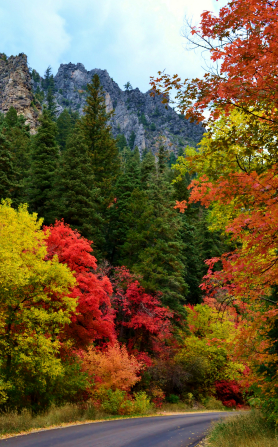 www.lds.org/media library
Daniel 2
20 Daniel answered and said, Blessed be the name of God for ever and ever: for wisdom and might are his:
21 And he changeth the times and the seasons: he removeth kings, and setteth up kings: he giveth wisdom unto the wise, and knowledge to them that know understanding:
22 He revealeth the deep and secret things: he knoweth what is in the darkness, and the light dwelleth with him.
23 I thank thee, and praise thee, O thou God of my fathers, who hast given me wisdom and might,
Return to the top
---
November 13th: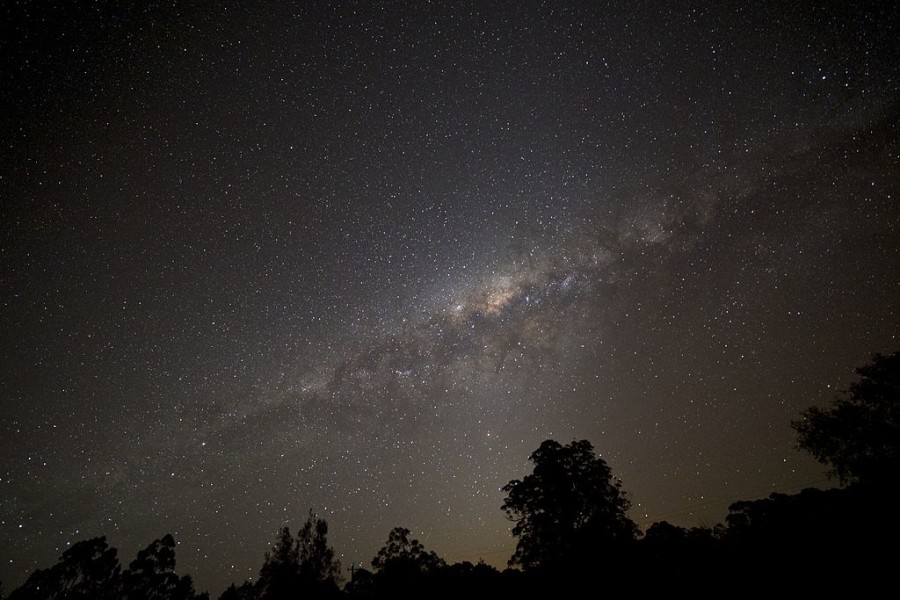 By R. Scott Hinks (Own work) via Wikimedia Commons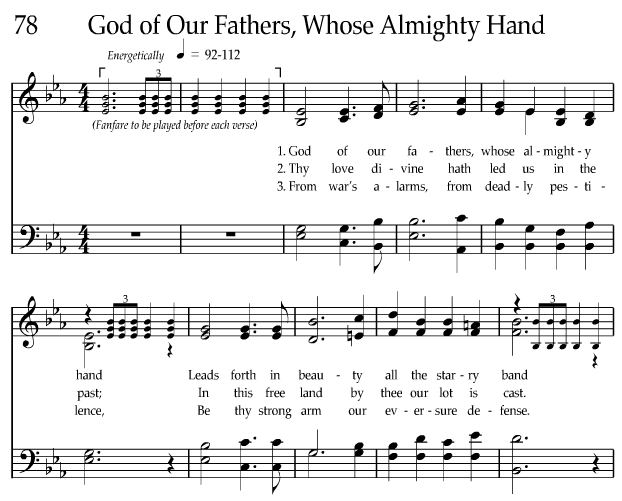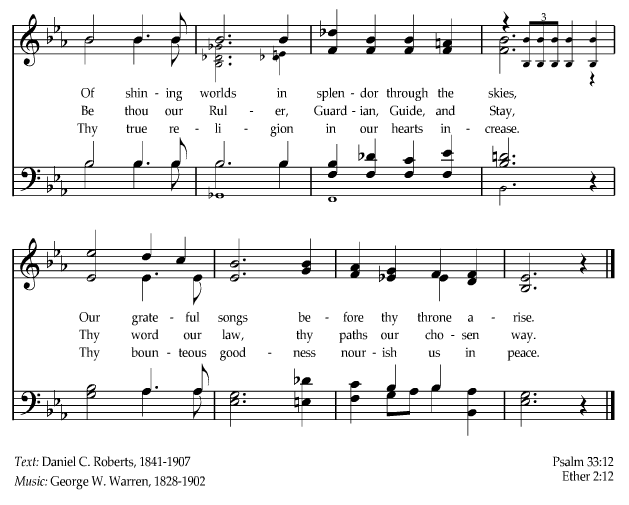 God of Our Fathers Whose Almighty Hand
Return to the top
---
November 14th:
Book of Mormon – Mosiah 2
19 … O how you ought to thank your heavenly King!
20 I say unto you, my brethren, that if you should render all the thanks and praise which your whole soul has power to possess, to that God who has created you, and has kept and preserved you, and has caused that ye should rejoice, and has granted that ye should live in peace one with another—
21 I say unto you that if ye should serve him who has created you from the beginning, and is preserving you from day to day, by lending you breath, that ye may live and move and do according to your own will, and even supporting you from one moment to another—I say, if ye should serve him with all your whole souls yet ye would be unprofitable servants.
22 And behold, all that he requires of you is to keep his commandments; and he has promised you that if ye would keep his commandments ye should prosper in the land; and he never doth vary from that which he hath said; therefore, if ye do keep his commandments he doth bless you and prosper you.
23 And now, in the first place, he hath created you, and granted unto you your lives, for which ye are indebted unto him.
24 And secondly, he doth require that ye should do as he hath commanded you; for which if ye do, he doth immediately bless you; and therefore he hath paid you. And ye are still indebted unto him, and are, and will be, forever and ever; therefore, of what have ye to boast?
~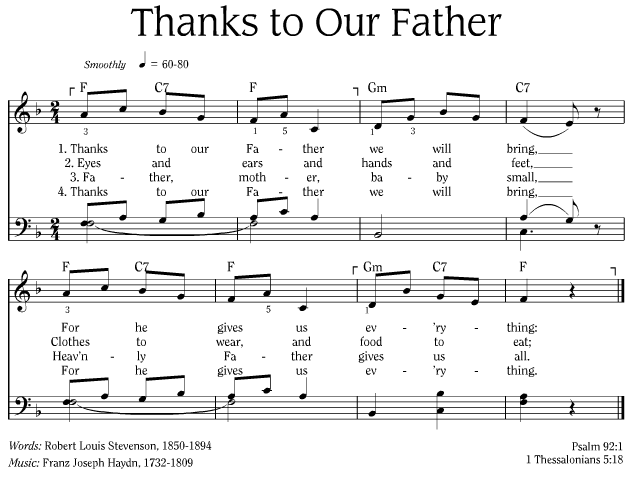 Thanks to Our Father
---
November 15th:
I don't think of all the misery, but of all the beauty that remains.
Anne Frank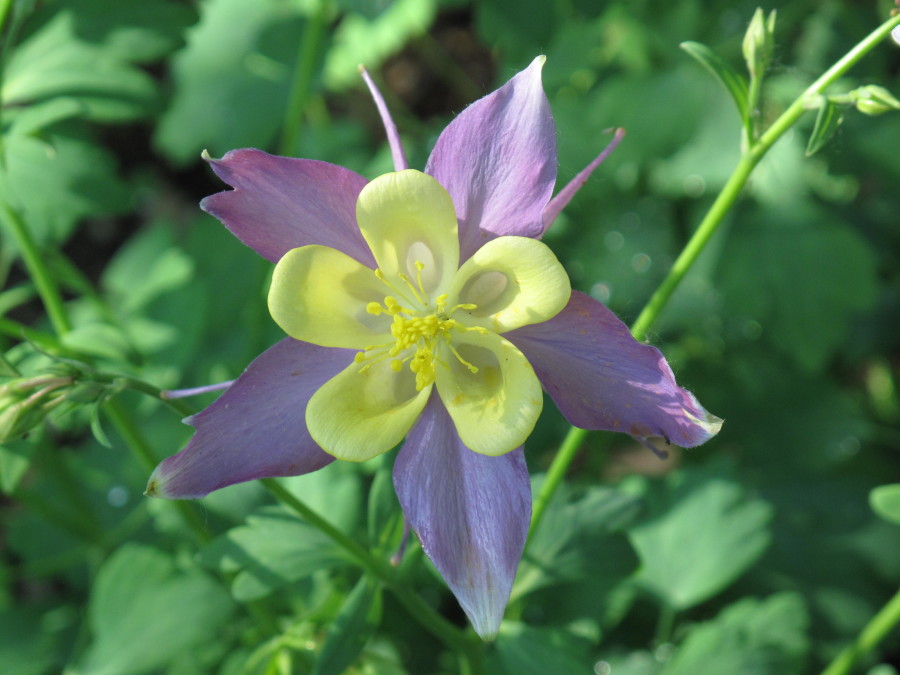 Photo by Larry Walters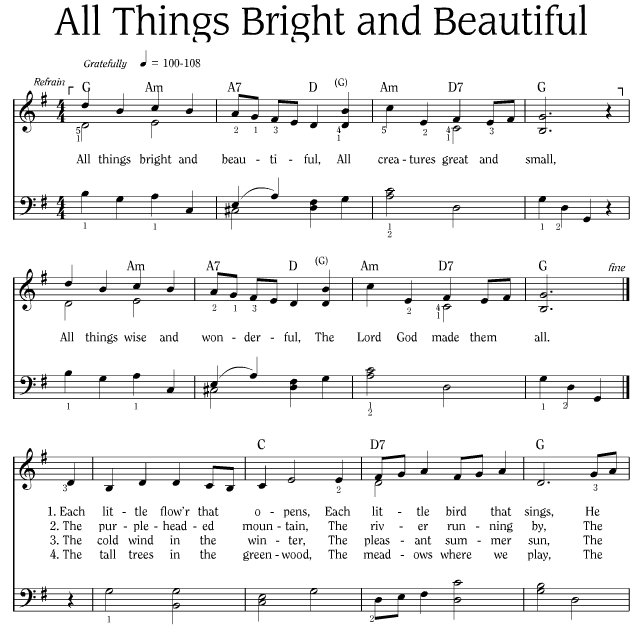 All Things Bright and Beautiful
Return to the top
---
November 16th:
Gratitude is the memory of the heart.
Jean Baptiste Massieu, Letter to Abbé Sicard

https://www.lds.org/media-library
~
We need to be more grateful. I think there's no true character without gratitude. It's one of the marks of a real strong character, to have a feeling of thanksgiving and gratitude for blessings that are ours. We need more of that spirit in our homes, in our daily associations, in church, everywhere. It doesn't cost anything. It's so easy to cultivate the spirit of appreciation and gratitude.
Pres. Ezra Taft Benson, Receive All Things with Thankfulness, Liahona, Feb. 1978
---
November 17th: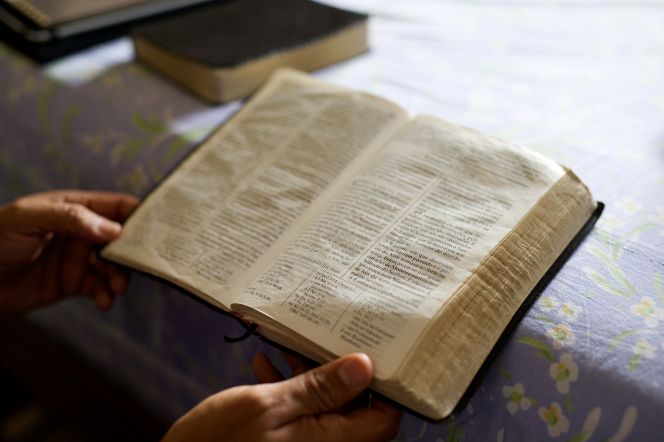 https://www.lds.org/media-library
Chronicles 16
8 Give thanks unto the Lord, call upon his name, make known his deeds among the people.
9 Sing unto him, sing psalms unto him, talk ye of all his wondrous works.
10 Glory ye in his holy name: let the heart of them rejoice that seek the Lord.
11 Seek the Lord and his strength, seek his face continually.
12 Remember his marvellous works that he hath done, his wonders, and the judgments of his mouth;
13 O ye seed of Israel his servant, ye children of Jacob, his chosen ones.
14 He is the Lord our God; his judgments are in all the earth.
15 Be ye mindful always of his covenant; the word which he commanded to a thousand generations;
16 Even of the covenant which he made with Abraham, and of his oath unto Isaac;
17 And hath confirmed the same to Jacob for a law, and to Israel for an everlasting covenant,
~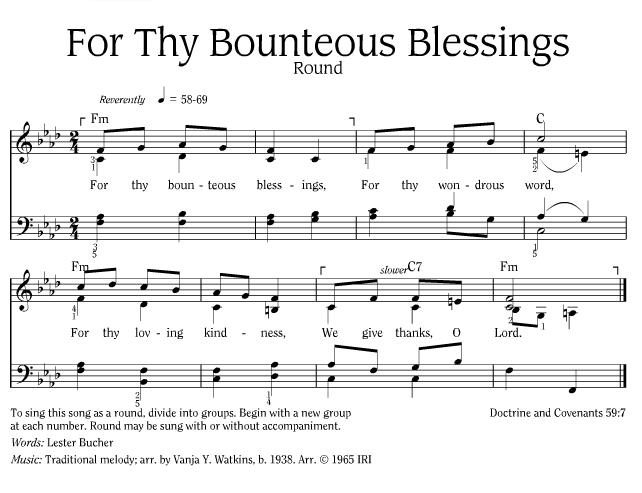 For Thy Bounteous Blessings
---
November 18th:
"Gratefully we acknowledge the infinite mind of our Maker, and gratefully ought to offer our tithes and offerings, and earnestly consistent service, in thanks for all that God has given, and keep his commandments in remembrance of the love and providence and purpose of the Creator, the God and Father of us all, the organizer and operator of heaven and earth, without whom all these things would not be so. Thank God for all this: for life and what sustains it, for loved ones that make it meaningful, for faith and purpose and continuance, always and forever. Thank God for all of this—and much, much more."
(Apostle Richard L. Evans , "Thanks: for the Organization and Operation of the Earth," Improvement Era, Feb. 1968, p. 74; KSL "The Spoken Word" broadcast, Nov. 19, 1967.)
~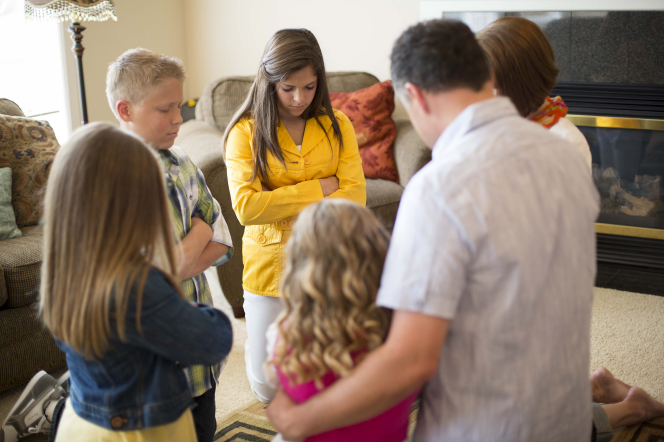 www.lds.org/media-library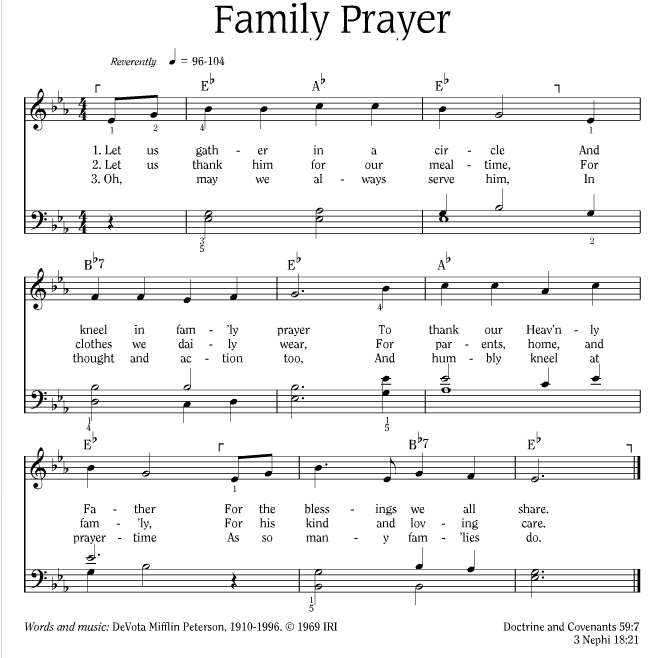 Family Prayer
---
November 19th: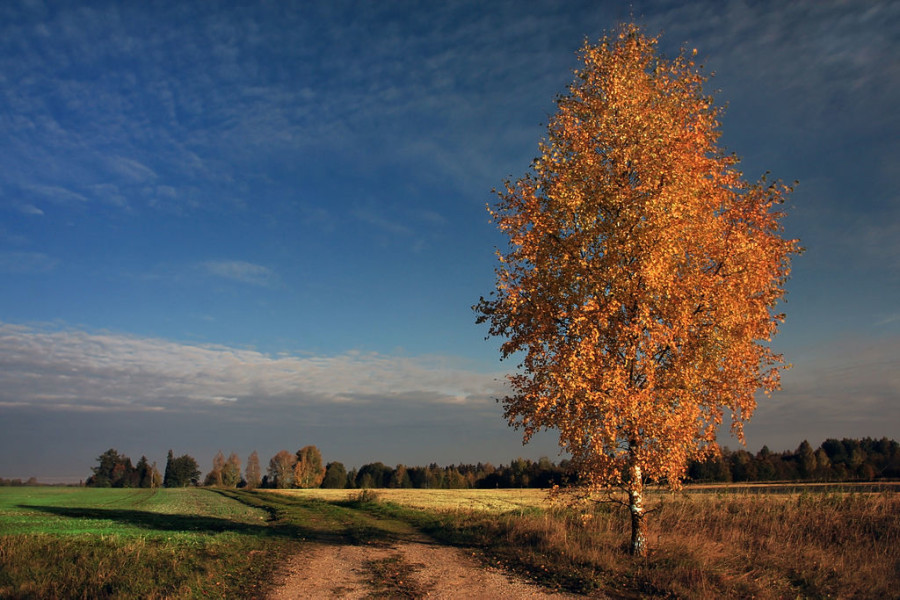 By Aleksander Kaasik (Own work) via Wikimedia Commons
Navaho Chant: Beauty is behind me, beauty is before me, beauty is above me, beauty is all around me. In beauty may I walk.
~
---
November 20th: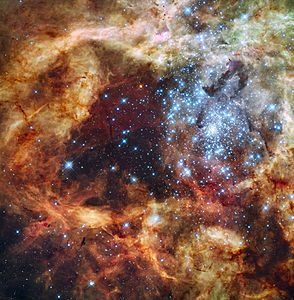 Grand Star Forming Region, captured by the Hubble Telescope
Chronicles 16
23 Sing unto the Lord, all the earth; shew forth from day to day his salvation.
24 Declare his glory among the heathen; his marvellous works among all nations.
25 For great is the Lord, and greatly to be praised: he also is to be feared above all gods.
26 For all the gods of the people are idols: but the Lord made the heavens.
27 Glory and honour are in his presence; strength and gladness are in his place.
28 Give unto the Lord, ye kindreds of the people, give unto the Lord glory and strength.
29 Give unto the Lord the glory due unto his name: bring an offering, and come before him: worship the Lord in the beauty of holiness.
30 Fear before him, all the earth: the world also shall be stable, that it be not moved.
31 Let the heavens be glad, and let the earth rejoice: and let men say among the nations, The Lord reigneth.
32 Let the sea roar, and the fulness thereof: let the fields rejoice, and all that is therein.
33 Then shall the trees of the wood sing out at the presence of the Lord, because he cometh to judge the earth.
34 O give thanks unto the Lord; for he is good; for his mercy endureth for ever.
---
November 21st: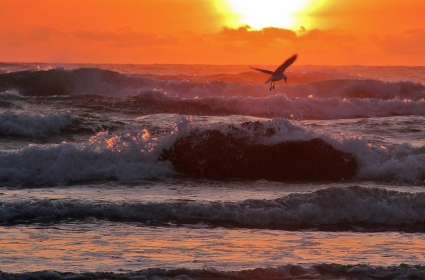 bird vs waves – all-free-download.com
Let All Things Now Living
Author: Katherine Davis

(Sung to the tune "The Ash Grove.")
Let all things now living a song of thanksgiving
To God the creator triumphantly raise.
Who fashioned and made us, protected and stayed us,
Who still guides us on to the end of our days.
God's banners are o'er us, His light goes before us,
A pillar of fire shining forth in the night.
Till shadows have vanished and darkness is banished
As forward we travel from light into light.
His law he enforces, the stars in their courses
And sun in its orbit obediently shine;
The hills and the mountains, the rivers and fountains,
The deeps of the ocean proclaim him divine.
We too should be voicing our love and rejoicing;
With glad adoration a Song let us raise
Till all things now living unite in thanksgiving:
"To God in the highest, Hosanna and praise!"
---
November 22nd:
Write it on your heart that the present day is the best day of the year.
Emerson
    www.lds.org/media-library
---
November 23rd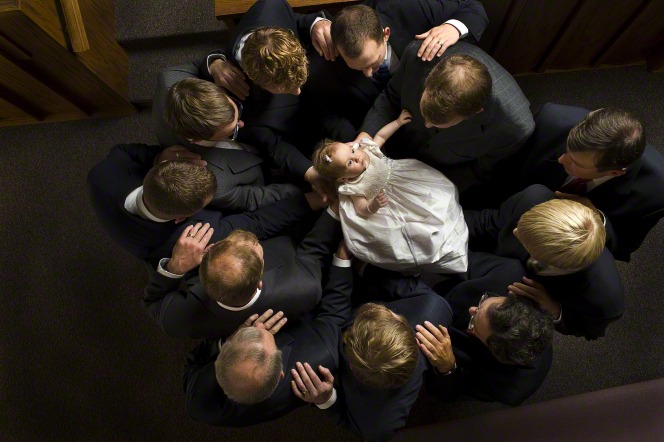 www.lds.org/media-library
Doctrine and Covenants 78
17 Verily, verily, I say unto you, ye are little children, and ye have not as yet understood how great blessings the Father hath in his own hands and prepared for you;
18 And ye cannot bear all things now; nevertheless, be of good cheer, for I will lead you along. The kingdom is yours and the blessings thereof are yours, and the riches of eternity are yours.
19 And he who receiveth all things with thankfulness shall be made glorious; and the things of this earth shall be added unto him, even an hundred fold, yea, more.
~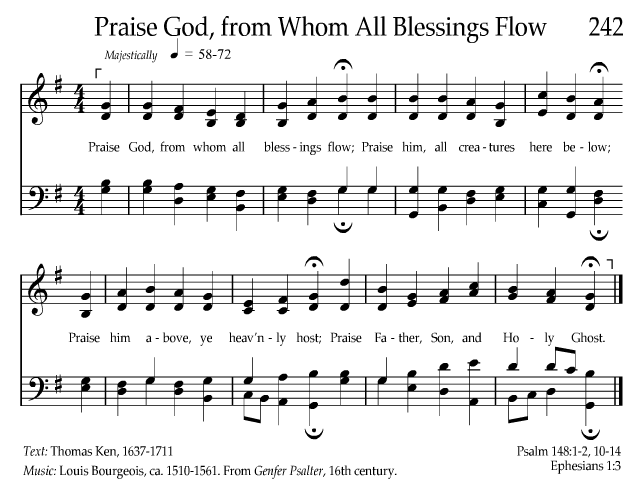 Praise God From Whom All Blessings Flow – LDS Hymnal p 242
---
November 24th:
The best and most beautiful things in the world cannot be seen or even touched.
They must be felt with the heart.
Helen Keller, American writer and educator
  www.lds.org/media-library
~
Psalm 146
1 Praise ye the Lord. Praise the Lord, O my soul.
2 While I live will I praise the Lord: I will sing praises unto my God while I have any being.
5 Happy is he that hath the God of Jacob for his help, whose hope is in the Lord his God:
6 Which made heaven, and earth, the sea, and all that therein is: which keepeth truth for ever:
7 Which executeth judgment for the oppressed: which giveth food to the hungry. The Lord looseth the prisoners:
8 The Lord openeth the eyes of the blind: the Lord raiseth them that are bowed down: the Lord loveth the righteous:
9 The Lord preserveth the strangers; he relieveth the fatherless and widow: but the way of the wicked he turneth upside down.
10 The Lord shall reign forever, even thy God, O Zion, unto all generations. Praise ye the Lord.
---
November 25th:

"Garden of Eden ArchesNP MC" by Christian Mehlführer – Wikimedia Commons
Book of Mormon – 2 Nephi 9
52 Behold, my beloved brethren, remember the words of your God; pray unto him continually by day, and give thanks unto his holy name by night. Let your hearts rejoice.
---
November 26th: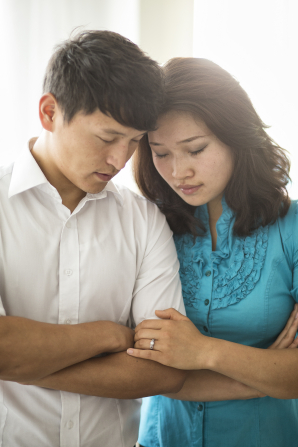 www.lds.org/media-library
Book of Mormon – Alma 37
37 Counsel with the Lord in all thy doings, and he will direct thee for good; yea, when thou liest down at night lie down unto the Lord, that he may watch over you in your sleep; and when thou risest in the morning let thy heart be full of thanks unto God; and if ye do these things, ye shall be lifted up at the last day.
---
November 27th:
Doctrine and Covenants 46
7 But ye are commanded in all things to ask of God, who giveth liberally; and that which the Spirit testifies unto you even so I would that ye should do in all holiness of heart, walking uprightly before me, considering the end of your salvation, doing all things with prayer and thanksgiving, that ye may not be seduced by evil spirits, or doctrines of devils, or the commandments of men; for some are of men, and others of devils.
8 Wherefore, beware lest ye are deceived; and that ye may not be deceived seek ye earnestly the best gifts, always remembering for what they are given;
9 For verily I say unto you, they are given for the benefit of those who love me and keep all my commandments, and him that seeketh so to do; that all may be benefited that seek or that ask of me, that ask and not for a sign that they may consume it upon their lusts.
10 And again, verily I say unto you, I would that ye should always remember, and always retain in your minds what those gifts are, that are given unto the church.
11 For all have not every gift given unto them; for there are many gifts, and to every man is given a gift by the Spirit of God.
12 To some is given one, and to some is given another, that all may be profited thereby.
13 To some it is given by the Holy Ghost to know that Jesus Christ is the Son of God, and that he was crucified for the sins of the world.
14 To others it is given to believe on their words, that they also might have eternal life if they continue faithful.
15 And again, to some it is given by the Holy Ghost to know the differences of administration, as it will be pleasing unto the same Lord, according as the Lord will, suiting his mercies according to the conditions of the children of men.
16 And again, it is given by the Holy Ghost to some to know the diversities of operations, whether they be of God, that the manifestations of the Spirit may be given to every man to profit withal.
17 And again, verily I say unto you, to some is given, by the Spirit of God, the word of wisdom.
18 To another is given the word of knowledge, that all may be taught to be wise and to have knowledge.
19 And again, to some it is given to have faith to be healed;
20 And to others it is given to have faith to heal.
21 And again, to some is given the working of miracles;
22 And to others it is given to prophesy;
23 And to others the discerning of spirits.
24 And again, it is given to some to speak with tongues;
25 And to another is given the interpretation of tongues.
26 And all these gifts come from God, for the benefit of the children of God.
27 And unto the bishop of the church, and unto such as God shall appoint and ordain to watch over the church and to be elders unto the church, are to have it given unto them to discern all those gifts lest there shall be any among you professing and yet be not of God.
28 And it shall come to pass that he that asketh in Spirit shall receive in Spirit;
29 That unto some it may be given to have all those gifts, that there may be a head, in order that every member may be profited thereby.
30 He that asketh in the Spirit asketh according to the will of God; wherefore it is done even as he asketh.
31 And again, I say unto you, all things must be done in the name of Christ, whatsoever you do in the Spirit;
32 And ye must give thanks unto God in the Spirit for whatsoever blessing ye are blessed with.
33 And ye must practice virtue and holiness before me continually. Even so. Amen.
---
November 28th: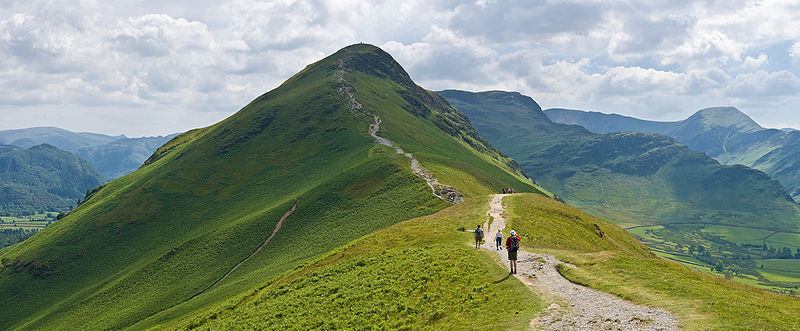 "Photo by DAVID ILIFF. License: CC-BY-SA 3.0 via Wikimedia Commons"
Book of Mormon – Alma 34
37 And now, my beloved brethren, I desire that ye should remember these things, and that ye should work out your salvation with fear before God, and that ye should no more deny the coming of Christ;
38 That ye contend no more against the Holy Ghost, but that ye receive it, and take upon you the name of Christ; that ye humble yourselves even to the dust, and worship God, in whatsoever place ye may be in, in spirit and in truth; and that ye live in thanksgiving daily for the many mercies and blessings which he doth bestow upon you.
---
November 29th:

                              Crab Nebula captured by the Hubble Telescope.
Revelation 7 –
11 And all the angels stood round about the throne, and about the elders and the four beasts, and fell before the throne on their faces, and worshipped God,
12 Saying, Amen: Blessing, and glory, and wisdom, and thanksgiving, and honour, and power, and might, be unto our God for ever and ever. Amen.
13 And one of the elders answered, saying unto me, What are these which are arrayed in white robes? and whence came they?
14 And I said unto him, Sir, thou knowest. And he said to me, These are they which came out of great tribulation, and have washed their robes, and made them white in the blood of the Lamb.
15 Therefore are they before the throne of God, and serve him day and night in his temple: and he that sitteth on the throne shall dwell among them.
16 They shall hunger no more, neither thirst any more; neither shall the sun light on them, nor any heat.
17 For the Lamb which is in the midst of the throne shall feed them, and shall lead them unto living fountains of waters: and God shall wipe away all tears from their eyes.
---
November 30th:
Remember that not to be happy is not to be grateful.
Elizabeth Carter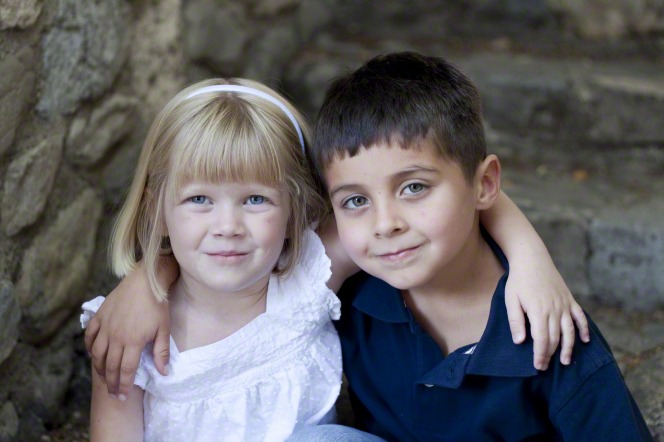 www.lds.org/media-library
~
Now, brethren and sisters, I bear my testimony to you that the Lord wants us to be grateful and thankful unto him. And if we do these things which he has advised us to do, we will be the happiest people who dwell upon the earth, for this is the way to the presence and society of our Father in heaven.
Apostle Marion G. Romney, General Conference of the Church of Jesus Christ of Latter-day Saints, April 1953
---
Readings and Hymns for the Thanksgiving Feast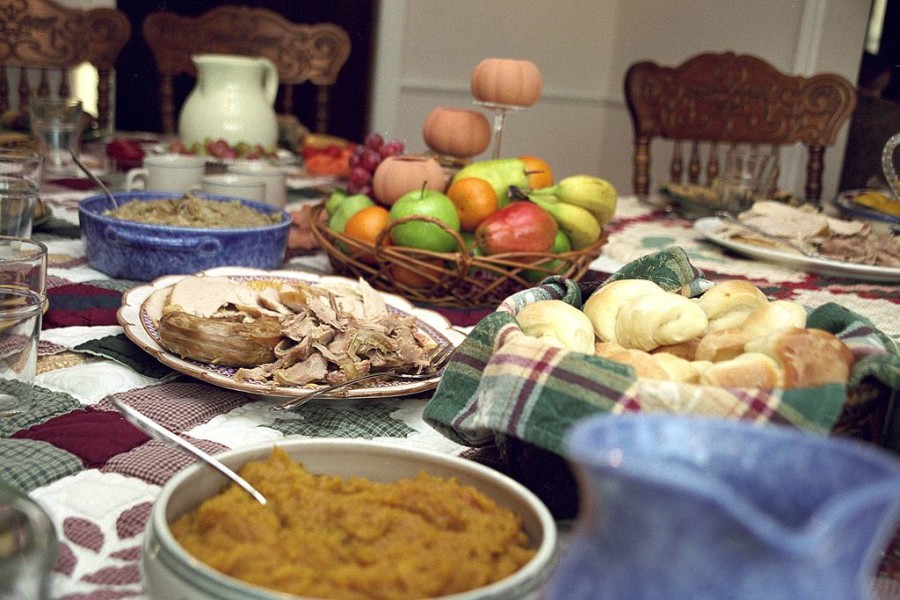 Photo by Ben Franske via Wikimedia Commons
Psalm 95
1 O come, let us sing unto the Lord: let us make a joyful noise to the rock of our salvation.
2 Let us come before his presence with thanksgiving, and make a joyful noise unto him with psalms.
3 For the Lord is a great God, and a great King above all gods.
4 In his hand are the deep places of the earth: the strength of the hills is his also.
5 The sea is his, and he made it: and his hands formed the dry land.
6 O come, let us worship and bow down: let us kneel before the Lord our maker.
7 For he is our God; and we are the people of his pasture, and the sheep of his hand.
Psalm 100 – A Psalm of praise.
1 Make a joyful noise unto the Lord, all ye lands.
2 Serve the Lord with gladness: come before his presence with singing.
3 Know ye that the Lord he is God: it is he that hath made us, and not we ourselves; we are his people, and the sheep of his pasture.
4 Enter into his gates with thanksgiving, and into his courts with praise: be thankful unto him, and bless his name.
5 For the Lord is good; his mercy is everlasting; and his truth endureth to all generations.
The Book of Mormon – Alma Chapter 26
8 Blessed be the name of our God; let us sing to his praise, yea, let us give thanks to his holy name, for he doth work righteousness forever.
35 Now have we not reason to rejoice? Yea, I say unto you, there never were men that had so great reason to rejoice as we, since the world began; yea, and my joy is carried away, even unto boasting in my God; for he has all power, all wisdom, and all understanding; he comprehendeth all things, and he is a merciful Being, even unto salvation, to those who will repent and believe on his name.
37 Now my brethren, we see that God is mindful of every people, whatsoever land they may be in; yea, he numbereth his people, and his bowels of mercy are over all the earth. Now this is my joy, and my great thanksgiving; yea, and I will give thanks unto my God forever. Amen.
~
~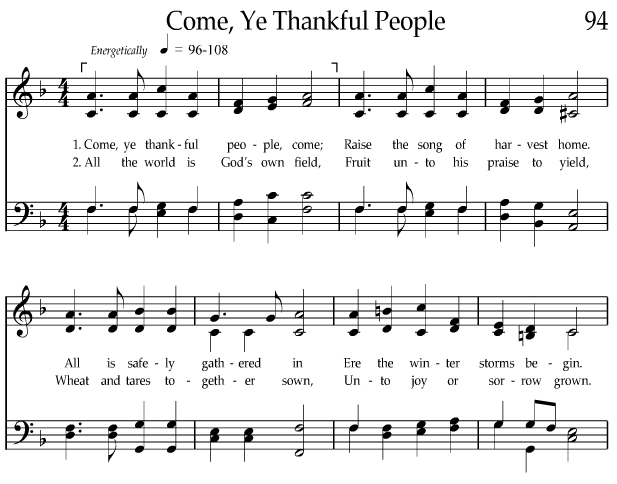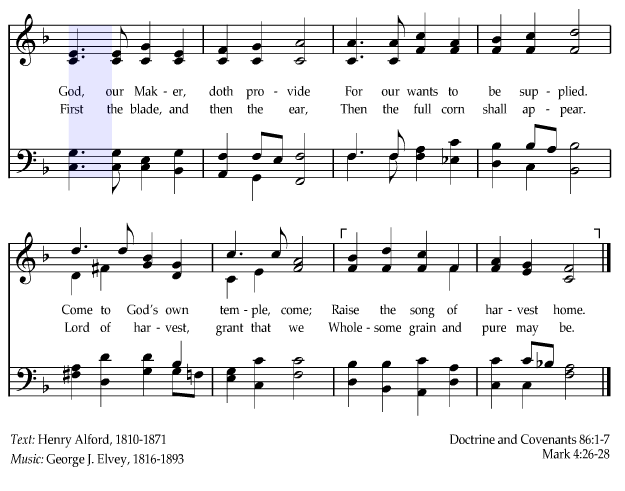 Come Ye Thankful People, Come.
~