These are some of the things that have added to our celebration of Christmas. We hope you will enjoy them too.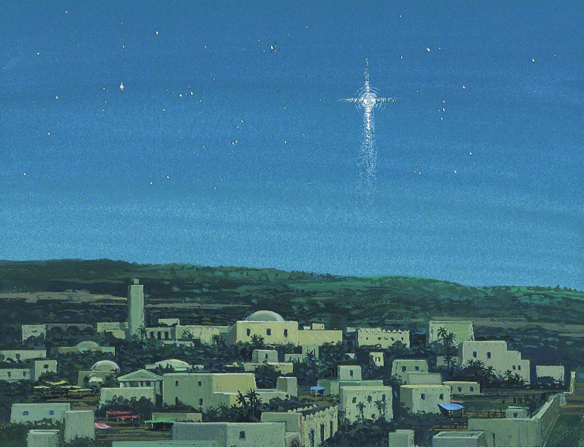 lds.org/medialibrary
Scripture Advent Calendar
These are the prophecies of the coming of Jesus Christ and the account of his birth. Each day in December, light a candle as you read the scriptures for that day.
Dec. 1:              
Dec. 2:             
Dec 3:              
Moses 6:50-63
Dec 4:              
Ether 3: 6-14
Dec 5:              
Genesis 49: 10
Numbers 24:17
Deut. 18:15-18
Dec 6:             
Psalms 2:
Psalms 24 (JST)
Dec 7:             
Psalms 68: 18-20,
Psalms 118: 14-24
Dec 8:             
Isaiah 7:14-15,
Isaiah 9:6-,
Isaiah 11:1-5
Dec 9:             
Isaiah 25:6-9,
Isaiah 40:1-5
Dec 10:           
Isaiah 42:1-10
Dec 11:            
Isaiah 53
Dec 12:           
Isaiah 61:1;
Isaiah 59:20,
Jeremiah 23:5-8
Dec 13:           
I Nephi 10: 1-10, 17
Dec 14:           
I Nephi 11: 9-23
Dec 15:           
I Nephi 19: 7-20,
I Nephi 22: 20-21
Dec 16:           
II Nephi 25:19-26,
Jacob 4: 4-6
Dec 17:           
Micah 5:2, Hosea 11:1
Dec 18:           
Zech 6:12-13,
Malachi. 3:1           
Dec 19:           
Mosiah 3:5-8,
Mosiah 13: 27-35
Dec 20:           
Alma 5:50,
Alma 7:7-12
Dec. 21:          
Helaman 8: 13-20, 22-23
Dec 22:           
Helaman 14:1-8, 11-13
Dec 23:           
Luke 1:5 -80
Dec 24:           
3 Nephi 1:4-21,
Matt 1:18-25
 Dec 25:          
John 1: 1-14,
 Matt 2,
 Luke 2:1-40
---
The BYU Choirs performed Dan Forrest's musical setting of this carol at their 2014 Celebration of Christmas Concert. A free download of the recording is available at https://archive.org/details/CarolOfJoy
By Eileen Berry
Green leaves all fallen, withered and dry;
Brief sunset fading, dim winter sky;
Lengthening shadows, dark closing in;
Then through the stillness, carols begin.
O fallen world, to you is the song!
Death holds you fast, and night tarries long.
Jesus is born, your curse to destroy;
Sweet to your ears, a carol of joy.
Pale moon ascending, solemn and slow,
Cold barren hillside shrouded in snow,
Deep empty valley, veiled by the night,
Hear angel music, hopeful and bright
O fearful world, to you is the song!
Peace with your God, and pardon for wrong.
Tidings for sinners, burdened and bound,
Carol of joy – a Savior is found!
Earth wrapped in sorrow, lift up your eyes!
Thrill to the chorus filling the skies.
Look up, sad hearted! Witness God's love;
Join in the carol swelling above!
O friendless world, to you is the song!
All heaven's joy to you may belong!
You who are lonely, laden, forlorn:
Now unto you a Savior is born!
---
 What if Love Became a Tree?
Adapted by Carol Walters from a poem by Marvin Payne
What if Love became a Tree
bearing fruit most sweet and white?
What if Light became a life:
in the dark a beacon bright?
What if Truth became a Fountain:
flowing water, undefiled?
What if Bread became a free gift?
What if God became a child?
What if peace became a pasture
guarded through the starlit night?
What if joy became a song
echoing with pure delight?
What if faith became an angel
bringing news with voice so mild?
What if heaven became a stable?
What if God became a child?
What if the King became the Servant
that His people might rejoice?
What if the Lamb became the Shepherd
and His sheep all heard his voice?
What if Justice became mercy
and the work of grace began?
What if Hope became a person?
What if God became a man?
---
We love Christmas books. Our favorite is Maggie Rose, Her Birthday Christmas by Newbury Award winner, Ruth Sawyer. (It has been out of print for many years, but there are generally used copies available online.)
We share the feelings Connie Willis expressed in the introduction to Miracle, her volume of Science Fiction Christmas stories:
Excerpts from the "Introduction" to Miracle and Other Stories by Connie Willis
I love Christmas. All of it – decorating the tree and singing in the choir and baking cookies and wrapping presents. I even like the parts most people hate – shopping in crowded malls and reading Christmas newsletters and seeing relatives and standing in baggage check-in-lines at the airport.
Okay, I lied. Nobody likes standing in baggage check-in lines. I love seeing people get off the plane, though, and holly and candles and eggnog and carols.
But most of all, I love Christmas stories and movies. Okay, I lied again. I don't love all Christmas stories and movies. … Hans Christian Anderson's "The Fir Tree" for instance.
But I love Miracle on 34th Street and Christopher Morley's "The Christmas Tree that Didn't Get Trimmed" and Christina Rosetti's poem "Midwinter." My family watches … A Christmas Story each year and we read George V. Higginson's "The Snowsuit of Christmas Past" out loud every Christmas Eve, and eagerly look for new classics to add to our traditions.
There aren't a lot. This is because Christmas stories are harder to write than they look, partly because the subject matter is fairly limited, and people have been writing them for nearly two thousand years so they've just about rung all the changes possible on snowmen, Santas, and shepherds. …
In addition, the Christmas story writer has to walk a narrow tightrope between sentiment and skepticism and most writers end up falling off into either cynicism or mawkish sappiness,
And yes, I am talking about Hans Christian Anderson. He invented the whole three-hanky sob story, whose plot, Maxim Gorky, in a fit of pique, described as taking a poor girl or boy and letting them "freeze somewhere under a window, behind which there is usually a Christmas tree that throws its radiant splendor upon them." Match girls, steadfast tin soldiers, even snowmen (melted, not frozen) all met with a fate they (and we) didn't deserve, especially at Christmas. …
Worse, he inspired dozen's of imitators, who killed off saintly children (some of whom, I'll admit, were pretty insufferable and deserved to die) and poor people for the rest of the Victorian era.
In the twentieth century, the Anderson style tearjerker moved into the movies … which tricked people into thinking they were going to see a cheery Christmas movie, when really they were about little boys who succumbed to radiation poisoning on Christmas Eve.
When television came along, this type of story turned into the "Very Special Christmas Episode" of various TV shows. … Hadn't any of these authors ever heard that Christmas stories are supposed to have happy endings?
Well, unfortunately, they had, and it resulted in improbably sentimental and saccharine stories too numerous to mention.
So are there any good Christmas stories out there? You bet, starting with the original. The recounting of the first Christmas (you know, the baby in the manger) has all the elements of great storytelling: drama, danger, special effects, dreams and warnings, betrayals, narrow escapes, and – combined with the Easter story – the happiest ending of all.
And it's got great characters – Joseph, who's in over his head but doing the best he can; the wise men, expecting a palace and getting a stable; slimy Herod, telling them, "When you find this king, tell me where he is so I can come and worship him," and then sending his thugs to try to murder the baby; the ambivalent innkeeper. And Mary, fourteen years old, pondering all the above in her heart.
Modern Christmas stories I love include O. Henry's "The Gift of the Magi," T. S. Elliot's "Journey of the Magi," and Barbara Robinson's The Best Christmas Pageant Ever, about a church Nativity pageant overrun by a gang of hooligans called the Herdmans. The Herdmans bully everybody and smoke and cuss and come only because they'd heard there were refreshments afterward. And they transform what was a sedate and boring Christmas pageant into something extraordinary.
Comedies are probably my favorite kind of Christmas story. I love Damon Runyon's "Dancing Dan's Christmas." (Actually I love everything Damon Runyon ever wrote, and if you've never read him, you need to go get Guys and Dolls immediately. Ditto P.G. Wodehouse, whose "Jeeves and the Christmas Spirit" and "Another Christmas Carol" are vintage Wodehouse, which means they're indescribable. If you've never read Wodehouse either, what a treat you're in for! He wrote over a hundred books. Start anywhere.) Both Runyon and Wodehouse balance sentiment and cynicism, irony and the Christmas spirit, human nature and happy endings, without a single misstep.
And then there's Christopher Morley's "The Christmas Tree That Didn't Get Trimmed," which was clearly written in reaction to Hans Christian Anderson's "The Fir Tree." Unlike Anderson, however, Morley understands that the purpose of Christmas is to remind us not only of suffering, but of salvation. His story makes you ache, then despair, then rejoice.
Almost all great stories, (Christmas or otherwise) have that one terrible moment when all seems lost, when you're sure things won't work out, the bad guys will win, the cavalry won't arrive in time, and they (and we) won't be saved. John Ford's Christmas Western, The Three Godfathers, has a moment like that. So does The Miracle of Morgan Creek, and Miracle on 34th Street, which I consider to be The Best Christmas Movie Ever. … (I am of course talking about the original, with Natalie Wood and Edmund Gwenn. In black-and-white. Don't even think about either of the wretched remakes.)
In Miracle on 34th Street … the irony … is that the miracle happens not because of people's behavior, but in spite of it.
Christmas is supposed to be based on selflessness and innocence, but until the very end in Miracle on 34th Street virtually no one except Kris Kringle exhibits these qualities. Quite the opposite. Everyone, even the hero and heroine, acts from a cynical, very modern self-interest. Macy's Santa goes on a binge right before the Macy's Thanksgiving Day Parade, Doris hires Kris to get herself out of a jam and save her job, John Payne invites the little girl, Susan, to watch the parade as a way to meet the mother.
And in spite of Kris Kringle's determined efforts to restore the true spirit of Christmas to the city, it continues. Macy's and then Gimble's go along with the gag of recommending other stores, not because they believe in it but because it means more money. The judge in Kris's sanity case makes a favorable ruling because he wants to get re-elected. Even the postal workers who provide the denouement just want to get rid of stuff piling up in the dead letter office.
But in spite of this (actually, in a delicious irony, because of it) and with only a very few faint glimmerings of humanity from the principals, and in spite of how hopeless it seems, the miracle of Christmas occurs, right on schedule. Just as it does every year. …
Miracle on 34th Street is not, however, the best story. That honor belongs to Dickens and his deathless "A Christmas Carol." The rumor that Dickens invented Christmas is not true, and neither, probably, is the story that when he died, a poor costermonger's little girl sobbed, "Dickens dead? Why then is Christmas dead too?" But they should be.
Because Dickens did the impossible – not only did he write a masterpiece that captures the essence of Christmas, but one that is good enough to survive its own fame. There have been a million, mostly awful, TV, movie, and musical versions and variations with Scrooge played by everyone from Basil Rathbone to the Fonz, but even the worst of them haven't managed to damage the wonderful story of Scrooge and Tiny Tim.
One reason it's such a great story is that Dickens loved Christmas. (And no wonder. His childhood was Oliver Twist's and Little Dorrit's combined, and no kindly grandfather or Arthur Clennam in sight. His whole adult life must have seemed like Christmas.) I think you have to love Christmas to write about it.
For another, he knew a lot about human nature. Remembering the past, truly seeing the present, imagining the consequences of our actions are the ways we actually grow and change. Dickens knew this years before Freud.
He also knew a lot about writing. The plot's terrific, the dialogue's great, and the opening line – "Marley was dead; to begin with." – is … one of the great opening lines in literature. He knew how to end stories, too, and that Christmas stories are supposed to have happy endings.
Finally, the story touches us because we want to believe people can change. They don't. We've all learned from bitter experience (though probably not as bitter as Dickens's) that the world is full of money-grubbers and curtain-ring stealers, and Scrooge stays Scrooge to the bitter end, and nobody will lift a finger to help Tiny Tim.
But Christmas is about someone who believed, in spite of overwhelming evidence, that humanity is capable of change and worth redeeming. And Dickens' Christmas story is in fact The Christmas Story. And the hardened heart that cracks open at the end of it is our own. …
---
Icebreaker Activity for a Christmas Party
Discuss the following questions with the other people at your table:
What is the best Christmas present you ever got?
What is the best Christmas present you ever gave?
What is your favorite Christmas tradition?
What is the best thing you ever saw anyone do to celebrate Christmas?
When did you first learn about Santa Claus? And what do you think of that tradition?
What foods mean "Christmas" to you?
Where was the most interesting place you ever celebrated Christmas?
What helps you celebrate Christmas as Christ's Birthday?
---
Christmas Memories
by Carol Walters
I don't know that I could choose a "favorite Christmas" or a "most memorable Christmas" because there are so many shining memories from so many Christmases. I was born on Christmas, and have always felt a special part of this worldwide celebration of the birth of our Lord.
Many of my early Christmas memories are bound up with my Grandmother Thorn. She loved Christmas and worked the whole year sewing and crocheting and making hooked rag rugs, and ceramics and other things so she would have a special gift for each of her children and grandchildren and great-grandchildren. She told us a story once about the Christmas in her childhood when they woke up and the stockings they had hung were empty. Her parents were so poor that they couldn't afford anything at all for the children.   Someone came later in the day to bring them a bag of candy, but it was too late to overcome the feeling of disappointment. I think she remembered that feeling of disappointment and emptiness her whole life and was determined that that would never happen to anyone in her family. Her packages were the ones we opened first because they always contained new nightgowns, which we would promptly put on and dance. Christmas afternoon we made the long trip from the Salt Lake Valley to Springville to visit with Grandma. Her Christmas tree was a magic thing. There were very fragile hand blown German glass ornaments: peacocks and Santas and purple pine cones, some of which had belonged to her grandmother. They gave me a strong sense of ties to the past.   There were small dolls Grandma had dressed in crocheted clothes, and foil snowflakes and plastic fruit. In Grandma's hands, anything could become a beautiful tree ornament. There was a snow scene under the tree with swans swimming on a mirror lake. When she was in her 90's, she gave her ornaments to me, and I now treasure them and hang them on my tree each year.
On the other side of the family, my Johnson grandparents lived in Canada, too far away to see often; but we would get together on Christmas Eve with the Johnson aunts and uncles and cousins who lived close to us, for a family Christmas pageant, with everyone dressed up in robes and towels.
Our family loved reading Christmas stories. Our favorite was "Maggie Rose" by Ruth Sawyer. It was about another little girl with a "Birthday Christmas" and we read it every year. Other books we enjoyed were "The Good Master", "The Anna Christmas Angel", and "Hansi" about Christmas in Switzerland. It had a recipe for Lebkuchen, the honey cookies made in Europe at Christmas time. We tried it and that became part of our family Christmas tradition..
Christmas music was also important to us. My parents sang with the Tabernacle Choir, and we loved to go to their Christmas broadcasts.   I always had my birthday party a few days before Christmas, and my friends and I would go caroling, and then come home to bowls of hot chili and a candy pull.
We didn't have much money for gifts, but I remember the year my father stopped by a construction site and gathered up scraps of 2x4s to make building blocks. We spent several evenings singing Christmas carols while we sanded blocks so there would be no splinters, and it was so much fun to be able to give big sets of building blocks to each of the families in our neighborhood .
I believe in Santa Clause. After Larry and I were married, we had some financially lean times as most young couples do. There were several years that packages mysteriously appeared on our doorstep. When we moved to Philadelphia to go to graduate school, I was putting things away on our porch a few days before Christmas when I saw a truck with Santa Clause at the wheel. I called to the children, and they came in time to see the truck park. Santa Claus got out with a big pack and came back to our door.   A young man with dark hair showing under the white hair and beard handed a present to each of our excited children. We never knew who sent them, though we suspected the Stake young adults from our church. I no longer remember what was in the packages, but the true gift that I will always be grateful for was the sense of warmth and love that came in knowing others cared about us. I have always hoped that our Santa Clauses received as much blessing from their giving as we did.